Biography
Born in The Netherlands, Robert migrated to Tallangatta, Australia with his family in 1971. Robert completed a degree in Graphic Art at Swinburne College and settled into Melbourne for the next seven years as a professional artist and art facilitator. Robert moved to Mparntwe (Alice Springs) in the 1980's where he worked closely with Arrernte Peoples for the next 12 years. Robert's beautiful landscapes reflect the influence of Arrernte artist Albert Namatjira and his love of the Australian landscape reflects his experiences with the Arrernte Peoples and their connection to 'Country'. Robert opened the art studio located at his home in Alice Springs to Arrernte, Luritja, Warlpiri & Pintupi artists and worked alongside such artists as Johnny Warrangkula Tjupurrula. Robert helped to facilitate Johnny's later body of work by constructing special brushes which could be used by Johnny after breaking his wrist. Robert has returned to NSW and now lives in Walla Walla surrounded by the rugged natural landscapes of Australia.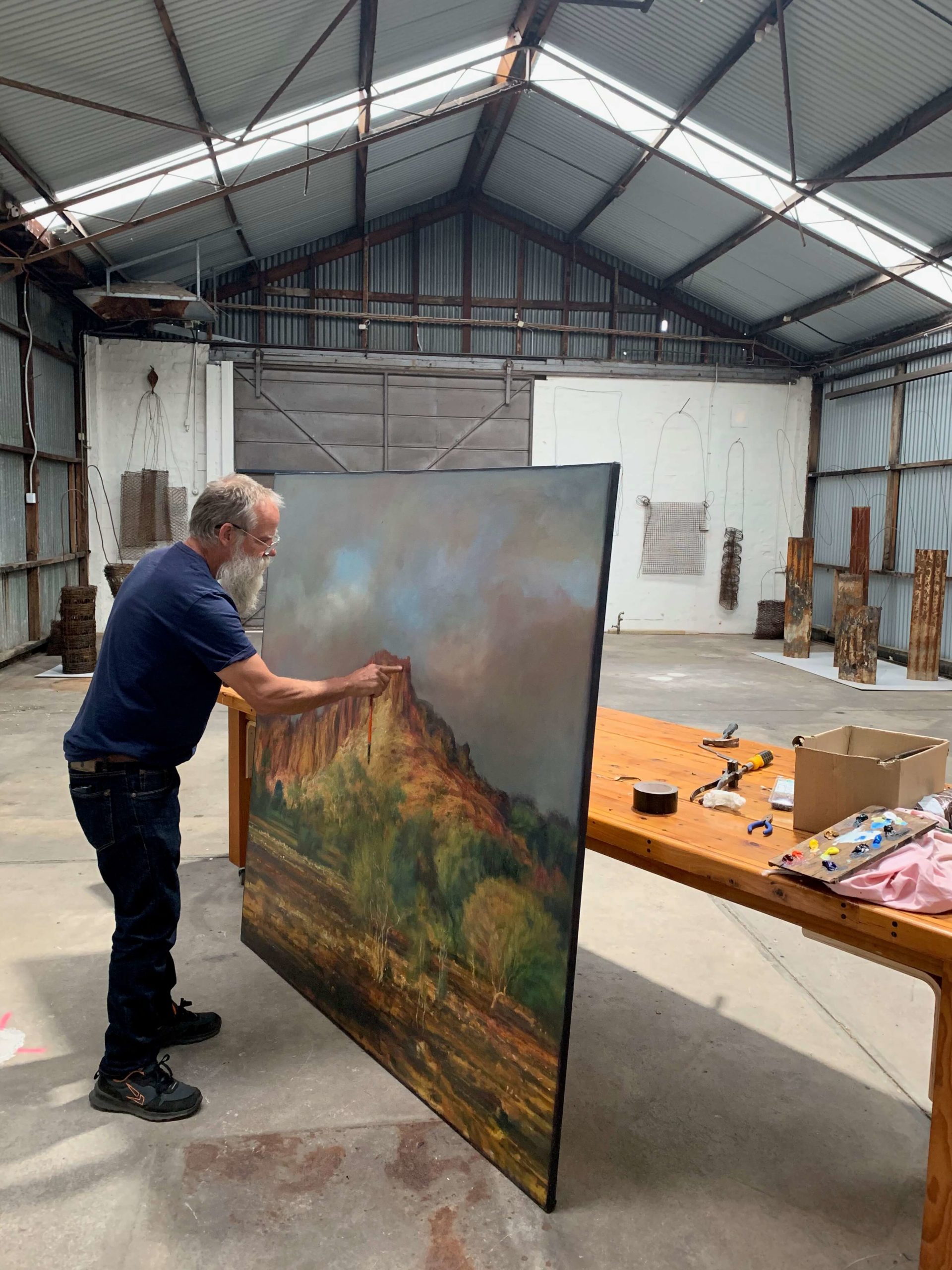 Collections
Sydney University Collection
Macquarie University Collection
Darwin University Collection
Araluen Regional Art Centre Northern Territory
Albury Regional Art Centre NSW
Private collections in The Netherlands, Germany, France, USA, Canada and Australia.
Exhibitions
2010       Murray River Reflections, Gateway Arts Village
2008       Energy Transference, Rushcutters Bay Gallery Sydney
2007       South Australian Sand Dunes, Rushcutters Bay Gallery Sydney
2006       South Australian Sand Dunes, Rushcutters Bay Gallery Sydney
2005       Group show, Horses, Rushcutters Bay Gallery Sydney
2004       Energy Transference Rushcutters Bay Gallery Sydney
2003       Goya Galleries, Melbourne
2003       Central Australian Landscapes, Rushcutters Bay Gallery Sydney
2002       Landscapes, Beehive Gallery Albury
2001       Nudes, Rushcutters Bay Gallery, Sydney
2000       Sculptures, Studio Exhibition Potts Point Sydney
2000       Female Nudes, Rushcutters Bay Gallery Sydney
1999       Sculpture, Robert Global Paddington Sydney
1999       The other You, Desaran Brisbane + Surry Hills
1999       Incantations, A.Rolland Hump Gallery Brisbane + Surry Hills
1999       Self Analysis, Tin Shed Gallery University of Sydney
1999       Figure Drawings, Global Galleries Paddington Sydney
1998       Self Portrait Drawings, Tin Shed Gallery University of Sydney
1997       Urban Landscapes, De Maria Sydney
1997       Infinite Now, Araluen Centre for Arts, Alice Springs NT
1997       Fated Gathering, Watch this Space Gallery, Alice Springs NT
1996       Portraits, Uno Gallery Sydney
1995       Changing Places, Kuala Lumpur National Gallery
1995       From the Heart, Figure and Landscape Studio, Alice Springs
1993       Sculptures, studio exhibition Alice Springs
1993       Landscape Drawings, Price Street Gallery Alice Springs
1992       Landscape Paintings, Sata Tera Sa Community Alice Springs
1992       Unity in Diversity, Chester Street Gallery Adelaide SA
1992       Covenant, The Residence Gallery Alice Springs NT
1991       Rhythm in Chaos, Araluen Centre for Arts Alice Springs
1990       Billy Goat Hill, Araluen Regional Gallery Alice Springs
1989       Observer, Cement Factory Albury
1988       Close up, The Residence Gallery Alice Springs
1988       Sacred Ochres, The Residency NT Museum Gallery Alice Springs
1987       Covenant (with Siamak Fallah), Bookshop Gallery Adelaide
1987       From the Centre, Wodonga Civic Centre, Wodonga
1986       A Rhythm in Chaos, Araluen Regional Art Gallery Alice Springs
1985       Still Observing, Butter Factory Lincoln Causeway Wodonga
1984       Observing Landscape, The Residency NT Museum Alice Springs
1983       From the Centre, Wodonga Civic Centre Wodonga
1982       Oil Paintings, The Residency NT Museum Alice Springs
1981       Coloured Drawings, Twilight Gallery Melbourne
1980       Drawings, Rumbarella Gallery Melbourne
1979       Pencil Drawings, Gustaf Perstits Gallery Albury